An Interview with Sonthar Gyal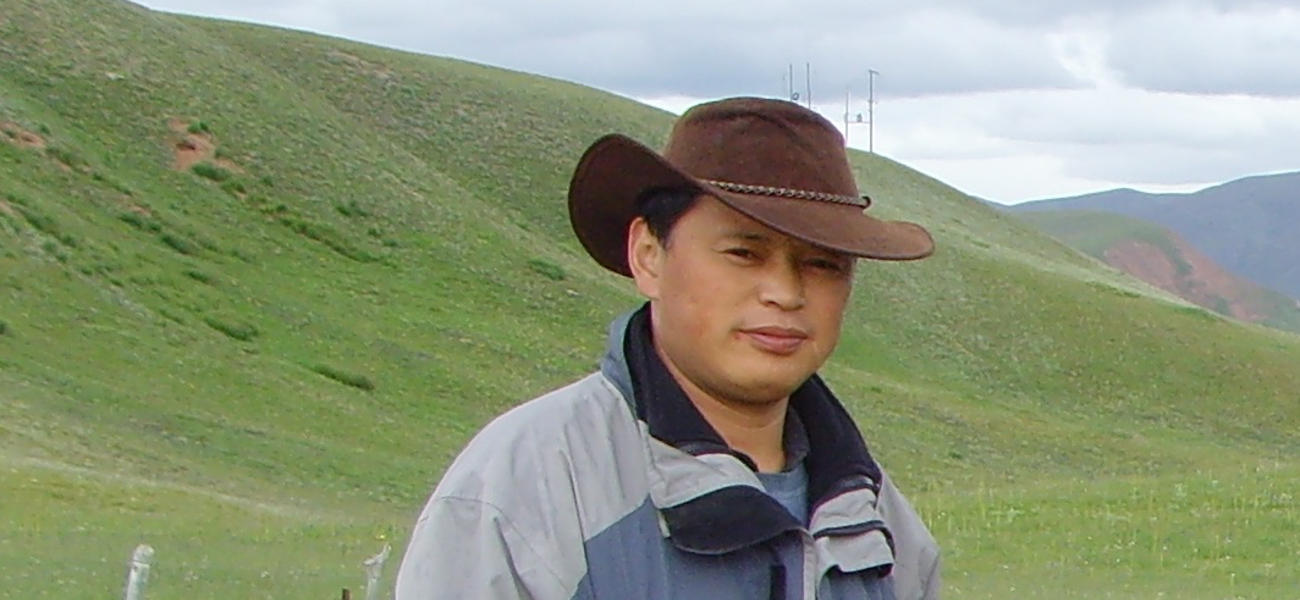 If you attended one of the packed screenings of The Sun Beaten Path this past August during our film series Lens on Tibet at The MoMA, you already know Sonthar Gyal's name.
You may not know that this renowned cinematographer is a two-time Trace fellow. We first gave him a scholarship to study fine arts in 2001 at Qinghai Normal University. In 2004, he went on to study at the Beijing Film Academy, also with Trace's support. He has since worked as a cinematographer and artistic director of a series of films and documentaries, including Pema Tseden's The Silent Holy Stones, The Search, and Old Dog. In 2011, his debut feature film, The Sun Beaten Path, was the winner of the Vancouver International Film Festival's prestigious Dragons & Tigers Award for Young Cinema. We recently had a chance to sit down and catch up with him. Now we're happy to share that interview with you.
Trace Foundation: Where do you come from?
Sonthar Gyal: My hometown is in Tsolho Tibetan Autonomous Prefecture, Qinghai Province. It's seminomadic, made up half of farmers and half of nomads. Due to frequent droughts and bad soil, the quality of life was—and is still—very poor for most people there, especially compared to other Tibetans. My father was a primary school teacher—and my own teacher when I went to primary school. In our class, there were only five or six students, the majority of whom came from nomadic families. My father's background is also nomadic. He was the first person to graduate from college in our region. That's why he dedicated his entire life to education. I received a good education among the children in our village. After graduating from Tsolho Nationalities Teacher Training College, I went back to the nomadic community to teach for four years. Then I received a scholarship from Trace to attend Qinghai Teacher Training College. I graduated from the fine arts department there and then went straight on to film school.
TF: What was the background of the other students in your primary school like?
SG: They were all nomads. Of my five classmates, only two of us went on to get jobs. The two girls were given away as brides. And the two other boys became monks. We had more students during first and second grades, but the number diminished over time. People don't understand why education is important, particularly when it means paying tuition and fees.
TF: When did you first become interested in the arts?
SG: In primary school. Of course, I didn't study with professionals at that time. My father liked to draw. He draws really well and paints thangka. At the time, they were really beautiful and unique.
TF: And how did you become interested in movies?
SG: When I was in primary school, a few townships of Tongde County had a vocational school. I remember a mobile film projector pulled by horses. In that carriage, I remember seeing a green film projector run on a generator. Every month, they would bring the projector and show old revolutionary movies. Though I didn't understand the language, I loved the characters. I remember lying down in front of the screen and watching. I didn't like the crowds so I would go to the other side of the screen and watch alone. I would bring my father's flashlight with me. After the show ended, I always searched for scraps of film, which I collected and stuck in a textbook. Later I created a small wooden box, picked up the various pieces of film and a used battery from the garbage bin to make a light box. When the other students returned to school on Sunday, I would place my projector on a table and show them different slides: my first film production. I started getting really interested in movies in the third grade, about the same time television came out. Martial arts movies were popular, especially those made in Hong Kong. There was only one cinema in our town. Eventually they hooked up big speakers to the projector and began showing movies every day, and every day we learned from these movies: how to fight, how to make explosives, and so on. Years later, when I was working as a primary school teacher, my friend Pema Tseden visited me. He told me how he'd just come back the Trace Foundation office in Xining with application forms. We talked about films like Forrest Gump. We'd known each other for a long time. He said that he was going to study film. This really impressed me. I didn't dare dream of studying film. The tuition was too expensive. After he completed his studies. He came to look for me again. He said I should also study film. He needed a cameraman, and it would be great if we could team up. So the next year, I went to study at the Film Academy.
TF: Tell us about your program at Qinghai Normal University.
SG: Studying at Qinghai Normal University is already expensive. And when you study fine arts, there are a lot of additional expenses—especially for materials and for renting a studio. Shooting is very special field, from a school's point of view. It has one of the highest tuitions. When you are learning to take photos, they charge you by second. They charge for processing the negatives. You are constantly handling expensive machines. That's why I applied for a scholarship from Trace. When I was at Qinghai Nationality Institute, I was drawing a lot, and by then my work was more professional. The art teacher at QNI liked my work; he told me that if I wanted to draw in the future, I could use his papers and he encouraged me to continue my artwork and apply for college. He encouraged me to continue my art education.
TF: So you continued your art education at Sichuan University. At that time, were you drawing every day or were you pursuing other activities, too?
SG: I drew but we had courses in other media, too. At that time, my drawing skills were good but my basic academic and theoretical foundation was weak.
TF: Were any of your fellow classmates from QNI school studying with you?
SG: I remember there was only one Tibetan student there; the rest were Chinese. There was no one from Tongde County; all of the other students were from Xining. I studied oil painting. Very few people go into this field, compared to say, thangka painting.
TF: You also received scholarship from Trace to support your studies in cinematography at the Beijing Film Academy. What impact did your study have? What was the most important thing you learned there?
SG: When I was given that opportunity, I changed a lot. This was first time I'd been to Beijing; it was tough, but the entire process was unforgettable. I realized that I had been wasting so much time, that I should have started filmmaking much earlier, that this work was good for both our culture and for my own life. Through this support, I was able to find more clarity in my goals and in my interests in Tibetan issues, culture, and so on. Coming to Beijing was a huge eye-opening experience. Like putting on a new pair of glasses, everything became very clear. I began watching some of the world's best films, including some Western works. I realized then that producing film is an important and serious job, not just entertainment. From the beginning of the PRC, Tibetan culture and history have always been depicted by outsiders. That's why I was really called to pursue film.
TF: What were some of the most important moments in your studies?
SG: Every Wednesday we had domestic film screening. Mondays and Tuesdays were for foreign movies. One Wednesday afternoon, we watched a Taiwanese film by Hou Hsiao-Hsien, The Boys from Fengkuei. This is one of his earliest works, and it had a huge impact on me. For about week, I could not stop thinking about this film. I couldn't sleep. When any two given people watch this movie, they see completely different things. This blew my mind. This was an epiphany in my understanding of film.
TF: Do you have a favorite film?
SG: I watch a lot of movies. I like the Russian film director Andrei Tarkovsky. I like Middle Eastern film, especially the work of Iranian director Abbas Kiarostami. Both Eastern and Western films have influenced my work. I loved Taiwanese filmmaker Edward Yang's Yī Yī. This film is one of the most powerful to come from Eastern filmmakers. As far as the Western filmmakers, I've been influenced by Ingmar Bergman; I've watched most of his films, and The Virgin Spring and The Seventh Seal are among my favorites. These films were produced in 1950s during some very hard times in Europe.
TF: What is the film culture like in Tibet where you grew up and where you live now?
SG: As I mentioned before, in our hometown there was one very small cinema that typically screened revolutionary films. In the eighties and nineties, with economic reform, the cinema was turned into wholesale store. By then every family had televisions and VCRs at home. This is still the case today; there are no large cinemas and opportunities to watch films on the big screen are limited. These days, I know that there are a few cinemas in Xining. Many youngsters today don't distinguish between watching a film on TV versus watching it at a cinema. For them, it's not about cinematic artistic experience but purely entertainment. Most of the films people watch on TV are Hollywood productions or martial arts movies from Hong Kong. Very few artistic films are watched. Even in Beijing, this is typical. While box office sales in Beijing, and China, are usually good, people are lazy and artistic films are not common. In France and other places, there are special cinemas for artistic film, cinemas dedicated exclusively to showing arts films. But not in China.
TF: What are the challenges of filmmaking in Tibet?
SG: Finding (native) professionals and specialists are the main challenges. Before Pema Tseden started making films, the majority of films on Tibet were produced by outsiders using mostly non-native languages. Are these Tibetan films? This is a subject we need to think about in terms of looking at a theoretical approach for defining Tibetan film. It's also a question in the academic world. When you go to a film and art school, they don't consider ethnicity a category or focus of study. You can't get credit for that. Therefore, pursuing a track outside mainstream arts training is very tough. And because the Chinese population is high, of course, the competition is tougher. Another big challenge in film production is that you need so many different professionals: producers, cameramen, and so on. That's why we need to train people who are interested in these different fields. If you don't cover all these fields, you're not undertaking a complete approach. A lot of Tibetans are gifted in the arts, and they could easily fill this gap.
TF: Why it is important that Tibet has its own culture?
SG: I think this is very important. Film was initially a form of entertainment and it's gradually transformed into a culture and an art field. Therefore, it encompasses a lot of things: culture, philosophy, and other professional fields. Due to its Buddhist traditions, ethnicity, and rich legacy of art, the Tibetan culture is unique. However, it has never been shown through a Tibetan lens. From an anthropological, or any other, perspective this is really very important. There are a lot of materials produced on Tibet, but very little produced by Tibetans. There are very few Tibetan voices. I feel that people should and must use their own voices to tell their stories. This applies for film, photography, and any other artistic expression. This is a must.
TF: Are you still painting? What relationship does your painting have with your work in film?
SG: The relationship between my painting and filmmaking is quite close. I still paint but only when I have time, and these days, time is hard to come by. I write my own screenplays; I direct my own films and do almost everything else. Once I have started a film project, I don't want to do anything else for a few months to a year. Every director has a different style of filmmaking. Some are more focused on telling the story through dialogue and words. I use fewer words and rely more on lighting, pictures, images, shadows, and scenes to tell the story. Therefore, my interests in painting and filmmaking are closely linked. When I write the story, I close my eyes and visualize the lighting. I think about the best way to capture the characters and the mood.
TF: What is the most important thing you've learned through filmmaking?
SG: One thing that has consistently impressed me in filmmaking is the emphasis on individuality. In Tibetan culture, we lack individualism, individual voices. Our religion and culture are more community- or group-based. This individualism is what I learned through film. And it is what I strive for now. A lot of the Tibetan culture revolves around group identity. When you are trying to describe Tibetan culture, think of it like a frame that everyone is trying to fit inside. If that frame is too big, you have to cut it; if it's too small, you have to stretch it. Since our culture is like a frame, we try to fit into it. This is what I've learned from film and this is what I'm trying to explore in my work. I am not interested in complying to a group identity or using film to assert group values.
TF: What advice do you have for the new generations of Tibetan filmmakers?
SG: I would say continue your education. That's very important. Film production in and of itself is not important. These days, the technology is there. You can make film with a lot of different kinds of equipment, from smartphones to many other tools. What's most important is the film you make. Making an entertaining film can be learned in a few years. But if you really are interested in film, or if you are really interested in expressing your ideas and so on, then you should continue learning. We lack inquisitive people. Young people these days like big, serious films. Let's say you make a big movie. After a few years, it will be forgotten; it won't have had much impact on your people or culture. When you think about making a film, then, you have to remember that this will be there for people to revisit. Therefore, learning how to make a good movie is very important. Go to a professional school and get all the necessary professional art and filmmaking training. Not only short-term training but also training with a clear goals and objectives. The young people who are making films—their products are good, entertaining, and so on. But they still lack important know-how that comes only with professional training. I have great hopes for these young filmmakers if they receive further professional training.
TF: Tell us about your collaboration with Pema Tseden and Dukar Tserang. How did you meet them and why has this been such a good collaboration?
SG: As I mentioned before, I went to the Beijing Film Academy with Pema Tseden's encouragement. He went to Qinghai Nationality first and then went on to study film, and this was a great inspiration. He encouraged me to study film. His vision is to develop a number of filmmaking professionals. Before I went to study film, we were good friends. Dukar Tserang is a sound engineer; he records and produces the soundtracks for our films. For a great soundtrack, you need someone who knows the language really well. Dukar Tserang graduated from Northwest Nationalities University with a major in Tibetan, and he is a talented musician. So we encouraged him to go to the Film Academy and study composition. After he completed his training, we collaborated in production of a few successful films together. Last year, I started to write my own script. After completing a draft I was happy with, I started to work on the production, directing and so on. I continue to work with Pema and Dukar. When funding is available, we work together. We are all professionals with different skills—Pema with the screenplay and directing, Dukar with the sound and music, and I with cinematography. We complement each other really well.
TF: What's next after The Sun Beaten Path?
SG: I've written two scripts. For one of these, The River, I received awards from the Australian Film Festival, as well as a few in China and the States. Last year we started production. Now it's in the postproduction stage. This film is about three generations, about people and religion. It is about a little daughter's perspective of her father and grandfather's relationship.
TF: Who are your biggest inspirations?
SG: I think my father. He passed away when I was young. He is quite well educated compared to his peers and the people around him, so he gave me a lot of freedom, including in pursuing the topics and subjects that I wanted. We did not have a typical father-and-son relationship; we were more like friends. He didn't pressure me. I had a lot of freedom. Another inspiration is one of my teachers. After I graduated, my teacher encouraged me not to go back home but to go somewhere else. Tibetan parents have a custom of encouraging their children to come home and live nearby. This teacher's advice was very helpful.
TF: If you had not received funding from Trace, how would this have impacted your work?
SG: Without Trace's support, I definitely wouldn't have been able to study film, let alone produce a film. I might have been a village teacher or working some kind of administrative government position.